Gunpowder on the Teeth: Arcade Quick impressions
Simple yet beautiful, the pixel art shines.  Your wrist and fingers will hurt as the difficulty level on this one is not low. The soundtrack propels you to keep going and the urge that you know you can do it and get to the next level.
If you need a taste there's a demo available.
https://store.steampowered.com/app/994860/Gunpowder_on_The_Teeth_Arcade/
Game officially releases Feb 22, 2019 on Steam Store for $9.99
Here's more info direct from the store page: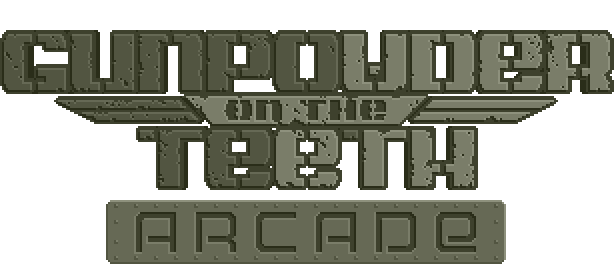 Platformer with simple, intuitive control, at the level of reflexes, the unpretentious retrographics and shattering complexity which is constantly increasing in process of passing.
At your disposal several fighters equipped with various arms for opposition to superior forces of the opponent with assistance of military equipment and aircraft.
Your task – detection and the subsequent destruction of various purposes, and also evacuation of staff, on completion of a mission.
You are waited for 15 missions located on 5 locations in different parts of the world, by several bonus levels and fights with Bosses.
Well and… the platformer without secrets is not a platformer…
Key Features
Mega hardcore! In this game you will receive a loss at first but only then you will notice the enemy. The realization of fighting in classical mechanics of a platformer.
5 fighters with various arms, for performance of various tasks, and an opportunity to open the legendary confidential fighter.
15 missions on 5 locations in different ends of the earth.
Fights with bosses, everyone with it's approach.
Bonus levels, with control of military equipment.
More than 20 achievements of Steam.
The monochrome pixel graphics stylized under classical gaming platforms.
Gameplay


The mission purpose – to find and destroy enemy radar-tracking systems, the way to which lies on a difficult landscape, with a big congestion of natural and artificial obstacles. Also on the way you will meet the protection, in the form of the opponent's troops, with assistance of military equipment and aircraft.
After destruction of the targets it is necessary to evacuate staff. The way to a disembarkation area also contains various traps and obstacles.
Fighters


Each fighter keeps about himself an individual weapon – a assault rifle, and also alternative which differs depending on the fighter's class. For each task there will be more suitable option: a congestion of enemy infantry – use a grenade, a tank or the truck – RPG over open sights and if there are a lot of enemies – request air action.
Equipment


Some levels allow to steer military equipment. The tank, the helicopter gunship, the fighter – feel superiority over weaker opponent. But it does not mean that will be easy.
Bonuses


Select boxes with medicine and ammunition to fill up health of the fighter and an ammunition. Try to collect all army counters (dog tags) which will open for you the legendary fighter and many various secrets and easter eggs.
Bosses


At the end of each location you are waited by fight with the boss. And for each fight it is necessary to pick up the approach. The enemy equipment, from the systems of volley fire and tanks acts as bosses, and to the landing ship on the air-cushion. Nobody will send the hardware to fight alone, so prepare that they will be covered by both enemy infantry, and artillery and unbeknownst what else surprises.