Great gouts of steaming magma on a beeline for the orphanage! Sam & Max Save the World is getting a physical release!
Skunkape Games, a studio founded by former Telltale developers to remaster the episodic Sam & Max games, have teamed up with Limited Run Games for three forthcoming physical products:
Limited Run will make these available in an open preorder from April 30 through May 30. Visit their store for more details: https://limitedrungames.com/collections/sam-and-max
Assets:
About Sam & Max
Individually Sam & Max are a six-foot dog in a suit (Sam) and a naked hyperkinetic rabbity-thing (Max) with sharp wit, big guns, and their own unique way of fighting crime. Collectively they are the Freelance Police, stars of award-winning comics by Steve Purcell, a 1990s LucasArts adventure game, a short-lived Canadian TV show, an upcoming VR game, and three episodic seasons released by Telltale Games between 2006 and 2010. Skunkape's remastered version of the first of these, Sam & Max Save the World, released for PC and Nintendo Switch in December.
In Sam & Max Save the World (a.k.a. Sam & Max Season One), the duo investigate a hypnosis plot that spins to global proportions in six linked cases that originally released as downloadable monthly episodes. The remaster features overhauled lighting, lip-sync, audio, cinematography, and more to bring a 15-year-old game up to modern standards.

About the Limited Run Collector's Editions
The Collector's Editions will feature big box packaging with cover art painted by Sam & Max creator Steve Purcell, a Highway Surfing mini print (also painted by Purcell), six postcards depicting the game's six episodes as comic book covers, and the game on physical media.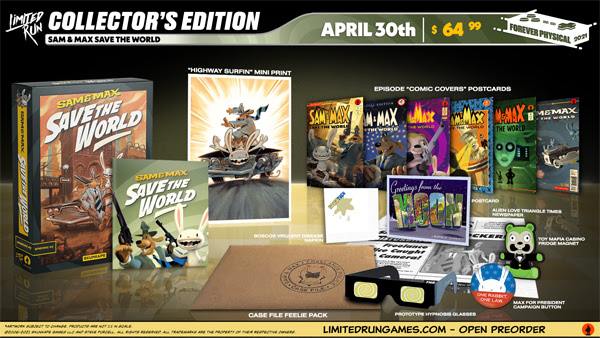 The Collector's Editions will also include an updated recreation of the Sam & Max Season One Case File, which was available in very limited quantities when Sam & Max Season One originally released in 2007. You can learn more about the Case File and its history here: https://skunkapegames.com/samandmax/casefile