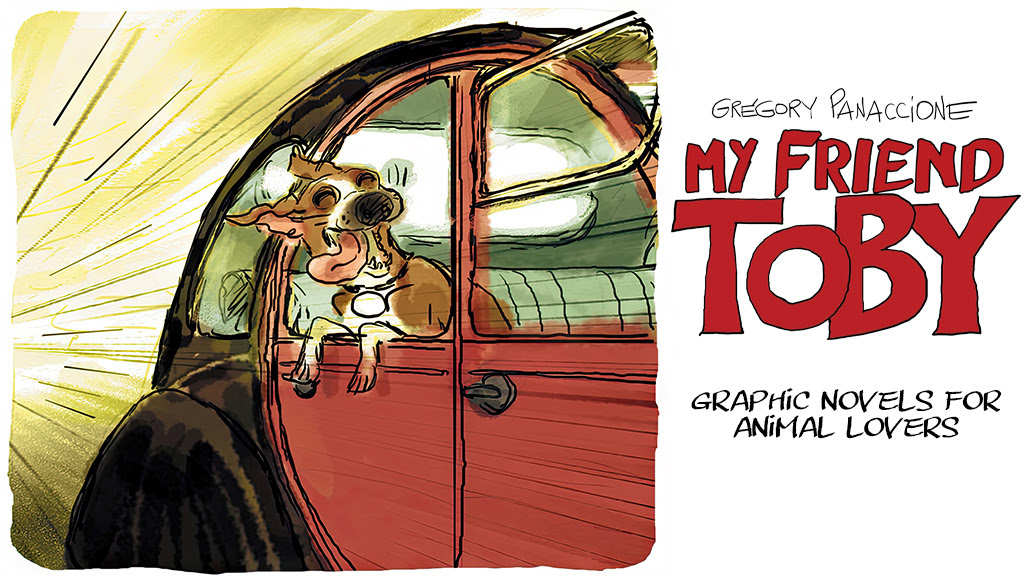 A Heartwarming Canine Adventure by Triple-Eisner nominee Gregory Panaccione Premiering on Kickstarter March 28th.
CHICAGO, IL (March 23, 2023) 
— Celebrated graphic novel and art book publisher 
Magnetic Press
 has announced plans in support of 
Animal Cruelty Prevention Month
 throughout April, starting with the launch of 
MY FRIEND TOBY,
 a heartwarming, wordless graphic novel by 
triple-Eisner Award-nominee Gregory Panaccione
 (
A SEA OF LOVE
).
This feature-length hardcover follows Toby, an average, energetic Terrier living on the coast with his artist friend, Marcel. When Marcel goes through a broken-hearted rough patch, their future grows uncertain, but carefree Toby gives life all the fun and meaning a loyal pet can provide. This adorable adventure will appeal to dog and animal-lovers of all ages.
In addition to the book, supporters will be able to pick up various book bundles featuring Gregory Panaccione's Eisner-nominated A SEA OF LOVE, as well as many of Magnetic Press's other celebrated books about animals, wildlife, anti-cruelty, and wordless stories. Each order will include an exclusive orange "Animal Ally" Anti-Cruelty awareness ribbon, with additional campaign-exclusive bonuses offered with different bundle pairings. For example, the "Cats & Dogs" Bundle will include a copy of LOVE: THE MASTIFF by multiple-Eisner Award-nominees Frederic Brremaud and Federico Bertolucci and CATS CATS CATS, a collection of hilarious cat cartoons by Lapuss and Larbier, along with a bonus 3" foam rubber ball for your favorite fur buddy to enjoy.
Other bundles include a digital mega-bundle of 20 animal-centric graphic novels from Magnetic Press's digital library, many of which have collected awards and nominations worldwide. Animal lovers are encouraged to visit 
https://www.kickstarter.com/projects/neurobellum/my-friend-toby-graphic-novels-for-animal-lovers
 on March 28th for the full list of titles.
Independent of the funds raised in Kickstarter, Magnetic will make a donation to the Anti-Cruelty Society commensurate to the success of the campaign. Founded in 1899, The Anti-Cruelty Society is dedicated to placing homeless animals with caring families while fighting instances of animal cruelty. Other online actions are planned throughout the month to help raise awareness of this precious effort to assist animals in need.
(The Anti-Cruelty Society is not formally associated with the campaign; donations will be made independently by Magnetic Press.)
Written and illustrated by award-winning storyboard artist Gregory Panaccione, MY FRIEND TOBY is a light and often hilarious tale about a dog any pet owner would recognize: curious, carefree, and always hungry. Through the course of this 144-page adventure, Toby will stand by his stressed friend Marcel, comforting and occasionally inspiring him through tough times, as any loyal pet will do. Told completely without dialogue, Panaccione explores the true thought processes of man's best friend in a way that anyone can understand.
"We've been passionate animal allies since long before launching Magnetic Press nine years ago," says Mike Kennedy, Magnetic Press's Publisher. "There's a reason we have so many animal-centric titles in our library. Any opportunity to help the Anti-Cruelty Society is a good one. We adopted our cat, Lando, from ACS, and we want to help them find homes for many, many more loving housemates this month."
The limited pre-order campaign for MY FRIEND TOBY will run for 18 days on Kickstarter, ending Friday, April 14
th
 at 5pm CST. Books are expected to ship to supporters and bookstores in July, 2023.
More info about Magnetic Press is available on Facebook, Twitter, and the official website, www.magnetic-press.com.