Arthur Conan Doyle's World-Famous Detective is Reintroduced in a New Volume Lushly Illustrated by Vincent Mallie.
CHICAGO, IL (November 22, 2022) — Acclaimed graphic novel and art book publisher Magnetic Press today announced the upcoming publication of THE FIRST ADVENTURE OF SHERLOCK HOLMES: A STUDY IN SCARLET, a brand new edition of the classic 1887 crime novel by Sir Arthur Conan Doyle. Newly illustrated by celebrated artist Vincent Mallie, the book re-introduces readers to the brilliant detective whose genius has inspired countless adaptations to hold the Guinness Book World Record for most portrayals on film and television.
To herald this new release, Magnetic will be offering limited, campaign-exclusive editions of the book during a Kickstarter campaign scheduled to launch on Tuesday, November 29th at 10am CST. The campaign will offer not only the book itself, but also a limited, campaign-exclusive "Sleuth" Bundle that includes a pocket notebook, gold foil bookmark, a replica key to 221B Baker Street, a magnifying glass, and a manila evidence folder full of artifacts. In addition, fans will also have access to a Deluxe Boxed Slipcase Set which includes a copy of Vincent Mallie's recent, celebrated companion adaptation of ARSENE LUPIN, GENTLEMAN THIEF. Not only are the two novels complementary in theme and setting with a shared aesthetic thanks to Mallie's extraordinary artwork, but the characters even meet face-to-face in the classic 1907 ARSENE book.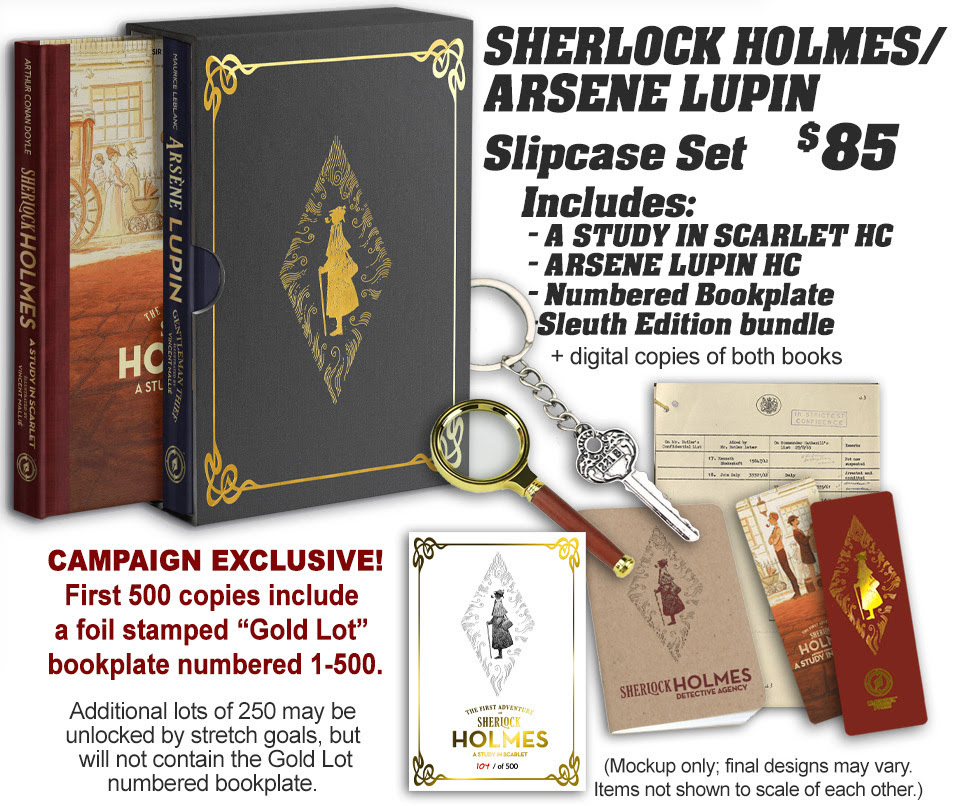 These special editions will only be available through this campaign, along with other exclusive unlockable bonuses such as linen cardstock art prints of the beautiful artwork featured within.
"You would be hard-pressed to find anyone on Earth who hasn't heard of Sherlock Holmes," says Mike Kennedy, Magnetic Press's Publisher. "But surprisingly few people are familiar with his very first published appearance. A STUDY IN SCARLET not only introduces Holmes to his stalwart partner Dr. Watson, but also introduces them both to the literary world in an adventure with roots set in frontier America. It's a fascinating mystery filled with genuine history from both sides of the Atlantic."
Fans can bookmark the Kickstarter campaign to be notified of launch by visiting https://www.kickstarter.com/projects/neurobellum/sherlock-holmes-a-study-in-scarlet-by-vincent-mallie.
More info about Magnetic Press is available on Facebook, Twitter, and the official website, www.magnetic-press.com.